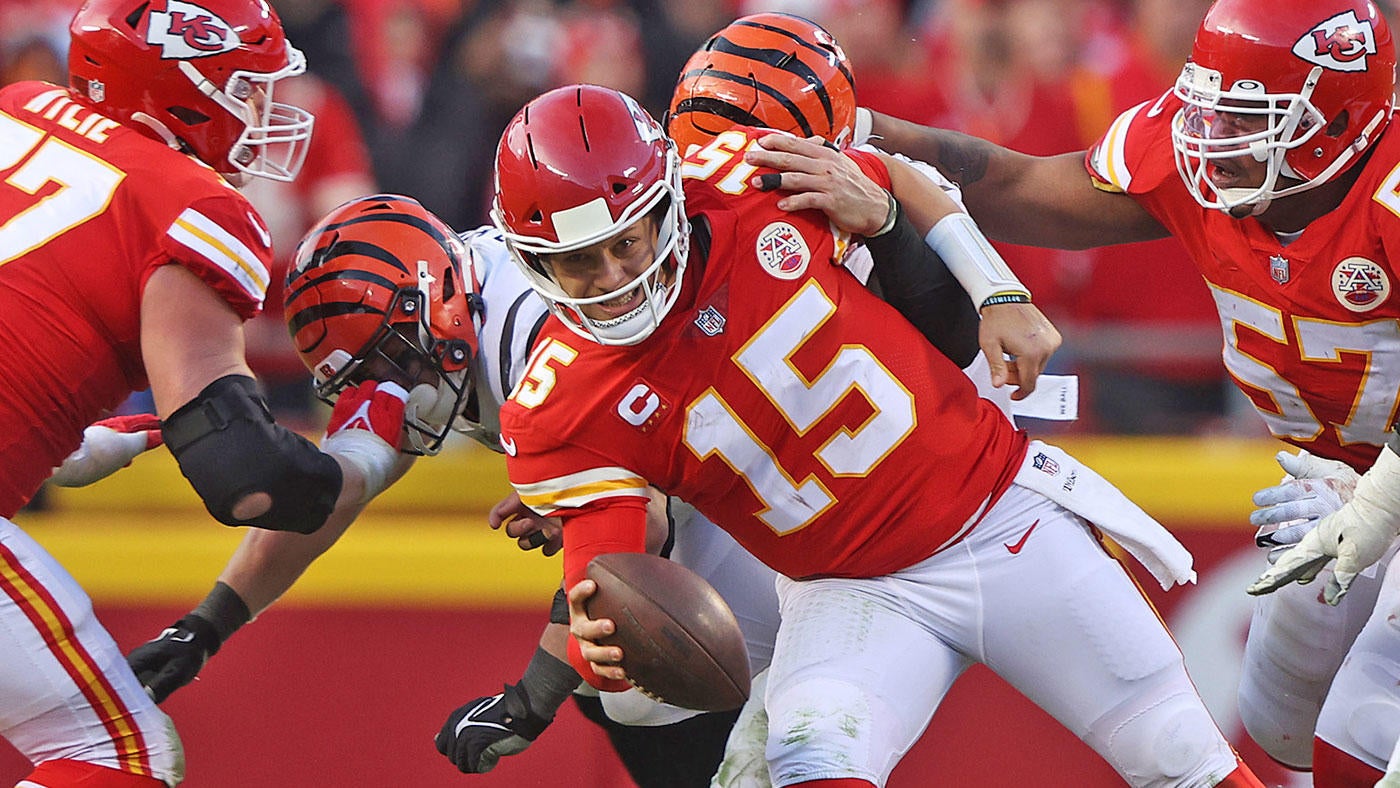 You couldn't ask for much more parity entering one of the greatest football times of year, conference championship weekend. Unfortunately it's come at the expense of the Chiefs and Patrick Mahomes, whose high-ankle sprain has opened the door for the most wide open Super Bowl race we've ever seen at this point in the year. 
As of Wednesday morning, the Eagles (+250) are Super Bowl favorites at Caesars Sportsbook, but not by much at all, followed by the Bengals (+260), Chiefs (+290) and 49ers (+330). According to CBS Sports researcher Ryan Satsky, the Eagles' +250 odds are the longest by any Super Bowl favorite entering a conference championship weekend since at least 1980.
The margins are even slimmer with our SportsLine projections, which also have the Eagles with the best chance to win the Super Bowl, but at only 27 percent.
Odds to win Super Bowl LVII
Eagles

+250

27%

Bengals

+260

22%

Chiefs

+290

26%

49ers

+330

25%
It's not just because of Mahomes' bad ankle, either. The field features four strong teams. It's the sixth time ever all four remaining teams won 12-plus games during the regular season (the others were in 2015, 2013, 1998, 1991 and 1990). All four teams are scorching hot at the most critical time of year, too. According to ESPN researcher Evan Kaplan, the four conference championship teams are a combined 35-2 with their current QB starting since Nov. 1. Joe Burrow (10-0), Brock Purdy (7-0), Patrick Mahomes (10-1) and Jalen Hurts (8-1) are all on a tear over that span.
The results are two very even games on paper, too. Patrick Mahomes could close as a playoff underdog for the first time in his career. And both games feature spreads of 2.5 or shorter (the Eagles are 2.5-point favorites and Bengals are 1.5-point favorites) as of Wednesday. This would be the third time ever that both conference championship games have a spread of 2.5 or shorter, along with the 1982 and 1997 seasons.
You know the competition is tight when the hottest team in the NFL is an underdog. That's the case with the 49ers, who have reeled off 12 straight wins entering the NFC Championship Game, which will be hosted by the top-seeded Eagles. The 49ers will be the second playoff underdog on a 12-plus game win streak since 1970. The 2004 Steelers had a 15-game win streak before losing to the eventual Super Bowl-champion Patriots in the AFC title game.
Add it all up, and we should be in store for a very exciting and competitive weekend on the road to Super Bowl LVII.