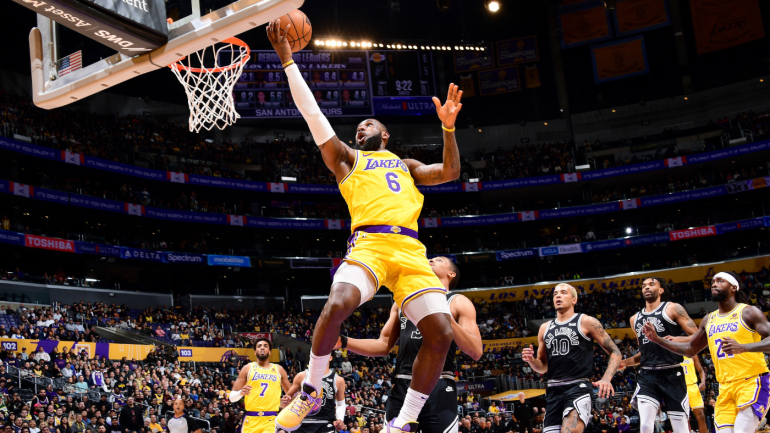 Getty Images
After a 46-point showing against the Clippers on Tuesday, LeBron James followed up with 20 points in the Lakers' 113-104 win over the Spurs on Wednesday that also marked the return of Anthony Davis and the L.A. debut of Rui Hachimura. 
With the 20, James continues to close in on the all-time scoring record. Below you can see where LeBron's pursuit of Kareem Abdul-Jabbar's career mark stands. 
Kareem Abdul-Jabbar

38,387

___

LeBron James

38,230

158
For the season, James is averaging 29.9 points per game. If he maintains that pace, he will need just six more games to pass Abdul-Jabbar. If James doesn't sit out any games between now and then, and again, if the pace is maintained, the record would come at home against Oklahoma City on Feb. 7.  
Obviously James would prefer to break the record in Los Angeles. The league would love it, too. James has been on such a scoring tear of late that it was looking like the record would come on the Lakers' upcoming five-game road trip. It still might. The Lakers are no in a position to slow play LeBron's scoring for the sake of breaking the record at home. They need every win they can get. 
LeBron's last three games: 20 vs. Spurs; 46 vs. Clippers; 37 at PortlandLeBron's next three games: at Boston (Jan. 28); at Brooklyn (Jan. 30); at New York (Jan. 31)
"I'm excited to see it happen. I don't see records as personal accomplishments, but more as human achievements," Adbul-Jabbar said ahead of the 2021-22 season about LeBron potentially breaking his record. "If one person can do something that's never been done, that means we all have a shot at doing it. It's a source of hope and inspiration. Roger Bannister broke the four-minute mile back in 1954. Since then, not only have 1,400 runners beaten that time, but the new record is 17 seconds less. We all win when a record is broken and if LeBron breaks mine, I will be right there to cheer him on."
This post will update after each game until LeBron is atop the all-time scoring list.